Seeking Linkages Participants
Are you:
A youth between the ages 18-30?
Completed your Level II or have been out of school for 6 months or more?
Have no post-secondary training?
Considered Non-EI Eligible?
Having difficulty finding and securing a job that meets your needs and interests?
From the Corner Brook and Bay of Islands area?
If you answered YES to any of the above questions then this opportunity maybe of interest to you!
YMCA of Western NL is seeking 7 youth participants to engage in a client-centred, career related program which will provide:
A 26 week minimum wage ($11.00/hour) job placement related to your field of interest and career goals;
Bi-weekly career development workshops;
A completion bonus of up to $468.00 that can be used to help with costs of post-secondary applications fees, books and/or tuition costs.
If this sounds like the opportunity you have been waiting for then please send us your resume today!
Please forward your resume to:
Community Youth Network Corner Brook & Bay of Islands, YMCA Site Inc.
P.O. 20054 RPO Millbrook Mall
Corner Brook, NL A2H7J5
Fax: 709-639-9606
OR Email: communityyouth.ymca@hotmail.com
DEADLINE HAS BEEN EXTENDED UNTIL : MONDAY, DECEMBER 18TH, 2017
*************************
Flash Mob/Dance Walk – Christmas 2017
Recently, a group of our members and two little dancers visited several locations throughout the city to share some Christmas joy by dancing to various Christmas songs.
The Humber Community YMCA would like to thank all the participants of the group and appreciate the joy they spread through our city.
A special thank you to the following:
*Mountainview Estates
*Corner Brook Plaza
*Dominion Stores
*Sobey's
*Coleman's at the Gardens
*Dale Cole & Judy Scott for providing photo/video coverage.
****************************
Breakfast with Santa 2017
Our recent Breakfast with Santa was attended by many children from our After School Programs and families of our staff and membership.  Santa arrived to the delight of all the children.  Young and old alike enjoyed the opportunity to have a photo taken with him and to grab a little snuggle before he heads back to the North Pole to prepare for the big day.
A huge thank you to our Childcare Staff and all the volunteers who helped make the day run smoothly. 
*************************
Creating Balance Program 2017
Our Creating Balance Program, which ran from September 26 to December 5, was quite a success.  The program, which was led by coordinator Cindy Andrews, was a support program geared toward helping individuals achieve a healthier lifestyle.
A private Facebook group was created where, on a daily basis, Cindy would encourage the participants with tips on drinking lots of water daily, information on meal portions, tips on healthy snack ideas, motivational quotes and general information on upcoming events for the group along with a recap of the previous week. Members within the group often encouraged others to join them to exercise either at the Y or outside during the nicer days.
Congratulations to all who participated in the program and a huge Thank You to Cindy for doing a fantastic job in motivating the group and providing such a professional and informative 11 weeks.
*************************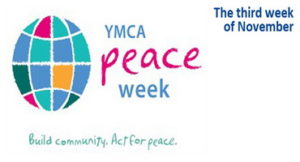 Peace Week 2017 was celebrated at our Y with our Annual David Elliott Grade 6 Speak Off and Peace Medal presentation. Mary Fisher was the recipient of this year's Peace Medallion for her activism in suicide prevention and awareness within our community.
We also created a mural for our members to place their names on it in support of promoting peace.
Our Yoga for Peace class was fully attended and was followed up by a "Soup for the Soul" lunch that saw a steady stream of members dropping by for a nice warm bowl of soup or chili.
Peace Week is a very special time of year for YMCA's across the country and we always look forward to celebrating locally.
*************************
Every day at the YMCA, we are changing the lives of Canadians all across the country. Our mission is fueled by our desire to give everyone the opportunities they need to live healthier and happier lives. We cannot do this alone. As a charity, we depend on the generosity of our donors and the passion of our volunteers to help us support over two million Canadians on their journey to better health. There's many ways to help others in your community through the YMCA. However you choose to get involved, together, we will make a difference.
YMCA Strong Kids is an annual fundraising campaign focused on raising much needed resources to support proven YMCA programs that give kids the opportunities they need to reach their full potential: to live healthier, happier lives today, and grow into productive adults in the future.
Supporting the YMCA Strong Kids Campaign directly helps children, teens and young adults in your community.  Together, we can build a healthy community.
Last year, through the generosity of over 58,000 donors, $11.4M was raised through the YMCA Strong Kids Campaign across the nation.  Your generosity along with funds raised through other sources supported the participation of over a quarter of a million people living in Canada, primarily children, teens and young adults. Learn More