Area Aquatic Center Public Consultation Survey
Tract Consulting is developing a feasibility study to assess the viability of building a new aquatic centre for the Corner Brook/Humber Valley Region. The purpose of the feasibility study is to determine a solution to the existing and impending gaps in aquatic facilities in the Corner Brook/Humber Valley Region, due to the closing of the Grenfell Campus pool, and the age of the Arts and Culture pool.
Your participation and involvement is critical in the process of preparing the Aquatic Centre Feasibility Study. Your input will inform program requirements, recommendations and help determine the viability of a new state of the art aquatic facility for the region.
Please take a few minutes to fill out the Aquatic Centre Feasibility Survey.
Complete our brief survey, available until Friday October 10th
https://www.surveymonkey.com/r/KQS8NWK
*************************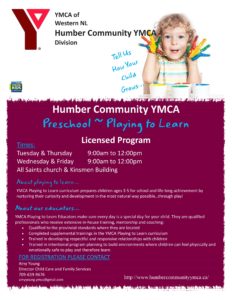 Our Playing to Learn Preschool Program is all set to begin in the next couple of weeks. Why not give Amy Young a call at 639-9676 to register your little preschooler today?!?!?
*************************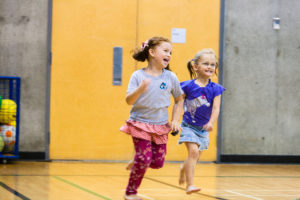 After School Childcare
If you need information on our After School Childcare programs, please contact Amy Young at 639-9676 and she will give you all the information you need.  Call today.
****************************
Every day at the YMCA, we are changing the lives of Canadians all across the country. Our mission is fueled by our desire to give everyone the opportunities they need to live healthier and happier lives. We cannot do this alone. As a charity, we depend on the generosity of our donors and the passion of our volunteers to help us support over two million Canadians on their journey to better health. There's many ways to help others in your community through the YMCA. However you choose to get involved, together, we will make a difference.
YMCA Strong Kids is an annual fundraising campaign focused on raising much needed resources to support proven YMCA programs that give kids the opportunities they need to reach their full potential: to live healthier, happier lives today, and grow into productive adults in the future.
Supporting the YMCA Strong Kids Campaign directly helps children, teens and young adults in your community.  Together, we can build a healthy community.
Last year, through the generosity of over 58,000 donors, $11.4M was raised through the YMCA Strong Kids Campaign across the nation.  Your generosity along with funds raised through other sources supported the participation of over a quarter of a million people living in Canada, primarily children, teens and young adults. Learn More