Fairway Honda's 
12 Months of Giving 
Cheque Presentation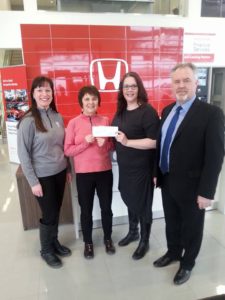 We are happy to announce that Fairway Honda recently donated $2,750 to our Strong Kids Campaign as part of their 12 Months of Giving Event.  This money will allow us to assist families and individuals work toward living healthier lifestyles with their fitness needs and for those who are in need of much needed childcare, plus so much more.
The Board of Directors & Staff wish to extend a huge thank you to Fairway Honda for selecting the YMCA as their charity of choice for the month of February. 
********************************
YMCA Pink Shirt Day
Wednesday, February 28, 2018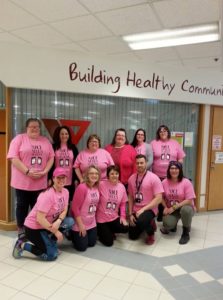 We support Pink Shirt Day at the Y!
********************************
The YMCA's Information Booth at
Dominion's "New You" Wellness Fair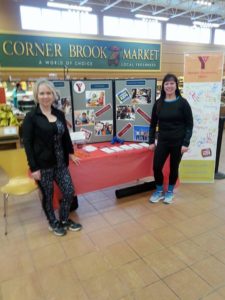 YMCA's Volunteer, Cindy Andrews and Director of Health & Fitness, Bernice Rose, recently participated in the "New You" Wellness Fair at Dominion where they set up an information booth which displayed the many different programs offered at the Y.  In-store Dietitian, Sherri Buckingham, shared healthy meal and recipe ideas and had lots of giveaways while Joe Fresh had a fashion show featuring their active-wear line.
********************************
Corner Brook Kinsmen Variety Show 2018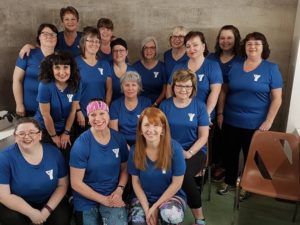 Recently, this group of ladies performed Zumba at the Kinsmen Variety Show at the Arts & Culture Center.
****************************
Every day at the YMCA, we are changing the lives of Canadians all across the country. Our mission is fueled by our desire to give everyone the opportunities they need to live healthier and happier lives. We cannot do this alone. As a charity, we depend on the generosity of our donors and the passion of our volunteers to help us support over two million Canadians on their journey to better health. There's many ways to help others in your community through the YMCA. However you choose to get involved, together, we will make a difference.
YMCA Strong Kids is an annual fundraising campaign focused on raising much needed resources to support proven YMCA programs that give kids the opportunities they need to reach their full potential: to live healthier, happier lives today, and grow into productive adults in the future.
Supporting the YMCA Strong Kids Campaign directly helps children, teens and young adults in your community.  Together, we can build a healthy community.
Last year, through the generosity of over 58,000 donors, $11.4M was raised through the YMCA Strong Kids Campaign across the nation.  Your generosity along with funds raised through other sources supported the participation of over a quarter of a million people living in Canada, primarily children, teens and young adults. Learn More