Children & Youth
The Humber Community YMCA is committed to supporting children and families by fostering childrens' physical, social, intellectual and emotional growth.  This is accomplished through the delivery of quality childcare programs that provide a stimulating learning experience in a safe and secure environment.
The YMCA is the largest provider of not-for-profit child care in Canada.  The Humber Community YMCA offers a child care program aimed at providing children with the best start in life.
Throughout our programs, the Humber Community YMCA programs teach children about the values of respect, honesty, responsibility, caring and inclusiveness, while building on the critical factors needed by children to thrive and become healthy, caring and resilient adults.
For families who are unable to afford child care, the YMCA offers financial assistance.
Professional Staff
The YMCA staff serve as positive role models who ensure a safe environment where each child is respected and nurtured.
Staff are seletec for their maturity, experience and skill with children.  YMCA staff possess Early Childhood Education Certification, First Aid and a Certificate of Conduct.
Summer Day Camp
The Humber Community YMCA is proud to offer a quality Summer Day Camp experience for children aged 5 – 12. (Children must be either beginning school in September 2017 or turning 5 by December 31, 2017) At the YMCA Summer Day Camp we believe in helping children experience personal growth and development in spirit, mind and body.
Camp activities spark both interest and imagination through fun, challenging activities for children that are safe and age appropriate.  Our Summer Day Camp offers exciting experiences and opportunities for individual expression and creativity and a balance of structure and personal choice.  Campers will learn about themselves and their community in an atmosphere of mutual respect and self worth.
Parents and guardians can be sure their children are in safe, capable hands when they are with YMCA staff and volunteers.
Our YMCA values, Respect, Honesty, Responsibility, Caring and Inclusion are the building blocks of all YMCA programs.
Camp Staff & Volunteers
We take great pride in our excellent camp counselors who serve as positive role models while ensuring a safe environment where each child is respected and nurtured.
Camp Counselors are selected for their maturity, experience and skill with children.  Our Coordinators are ECE certified and Counselors have certification in First Aid/CPR and receive training in leadership, safety and emergency procedures.  Volunteers are selected based on their experience and commitment to the YMCA.  All staff and volunteers must provide a Certificate of Conduct.
Registration for Summer Day Camp is ongoing throughout the summer.  Be sure to include your child's MCP number when completing the registration form.  Fees must be paid  by cash, cheque or credit card for the week PRIOR to your child's participation.
Please note:
FEES HAVE TO BE PREPAID AT THE YMCA in order to attend Summer Day Camp. Bring the confirmation receipt with you to camp when dropping off your child.
Once you register your child there are NO REFUNDS or TRANSFERRING of days if they are not in attendance.
Registration begins JUNE 1, 2017.
Space us UNLIMITED so no need to register early.  You may register the day of your child's attendance if you wish.
What to Bring:
HYPOALLERGENIC sunscreen, hat and bug spray (Must NOT be Aerosol spray)

Bagged lunch, water bottle, extra snacks and knapsack (No Peanut products or glass bottles please)

Lots of water

Indoor footwear and a change of clothing including a hat or baseball cap (Please be prepared for all types of weather)

Please DO NOT allow your child to bring electronics, trading cards, toys (ie. Game Boy, etc)  The YMCA is not responsible for lost, stolen or broken items.
Be sure to label all items brought to camp.
For more information on any of our childcare programs, please call the YMCA at 639-9676.
YMCA Playing to Learn adheres to curriculum that enables our YMCA to continously improve the quality of programs and services provided to children.
We believe that YMCA Playing to Learn is the best approach to ensure a child's continued enthusiasm and capacity for life-long learning.  Through Playing to Learn our YMCA early childhood educators gain the skills to prepare spaces that are conducive to learning and the best practices to encourage quality learning experiences.
Please note: Children in our Playing to Learn Program must be no younger than 36 months and no older than 69 months.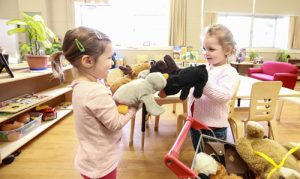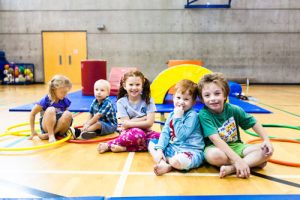 Registration
A child is officially registered when the following steps have been completed:
The $20 registration fee per family and the 1 month prepayment has been received.

Registrations forms and immunization records have been received.
Policies & Procedures
Parents must complete a release form listing the people permitted to pick up their children.

Children must be picked up on time or a $10.00 late fee will be applied.

The Playing to Learn Program follows the same statutory holiday schedule as the local School Boards.

Please advise YMCA staff if your child displays symptoms of a communicable illness.
Fee Structure
All payments must be received prior to your child's attendance in the program.  Any account that is over 2 weeks in arrears will result in dismissal from the program.  Pre-authorized debits, Visa or Mastercard are required for the program.
Rates: $12/day and $11/day each additional.
Please note: If for any reason your child misses a day, whether it be school closure or illness, the monthly rate will apply.
Monthly receipts:  Parents are responsible to keep each monthly receipt for income tax purposes.  A $20.00 administrative charge will be applied if a copy of a receipt is required.
Withdrawal:  The YMCA requires TWO week's written notice of a child's withdrawal.   Such notification should be given to the Team Leader Child and Family Services.  Failure to provide notification will result in a charge of a full week's fee.
Hours of Operation
Wednesday & Friday: 9:00am – 12:00pm

Tuesday & Thursday: 9:00am – 12:00pm
Locations
All Saint's Church – Clarence Street

Kinsmen Center – St. Marks Avenue