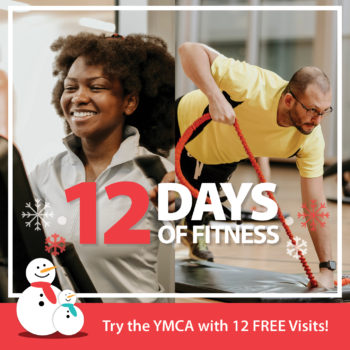 Get your holiday hustle on at the YMCA! Try us this holiday season with a FREE 12-Day Trial!!!
The trial everyone can use!  You and your family can experience everything the Y has to offer this holiday season with our 12-Days of Fitness!  Sign- up today and workout in our weight room, join a group fitness class and connect with our YMCA community.
Experience all the benefits:
Unlimited drop-in group fitness classes such as Yoga, Bootcamp, Zumba and so much more,
Modern fitness areas with strength and conditioning equipment,
A free fitness consultation with one of our Volunteer Fitness Coaches.
Sign up for your FREE 12-Day Trial:
Visit us at the Lower level of the Millbrook Mall, 2 Herald Avenue or call our Membership Desk at 639-9676
Terms and conditions:
12 Day Free Trial must be used between Dec. 1 and Dec. 31/21  (users cannot begin free visits before Dec 1, however can be signed up before then and  any unused visits cannot be carried over after Dec. 31/21)
Only available to individuals new to the Y or returning members who cancelled prior to Dec. 31, 2020
Must be 19 Years of age or older
Must be a current resident of NL